In your root WHM, under the Service Configuration section, click on "Nameserver Selection." You will be presented with a screen with the option to choose what DNS name server you want to choose.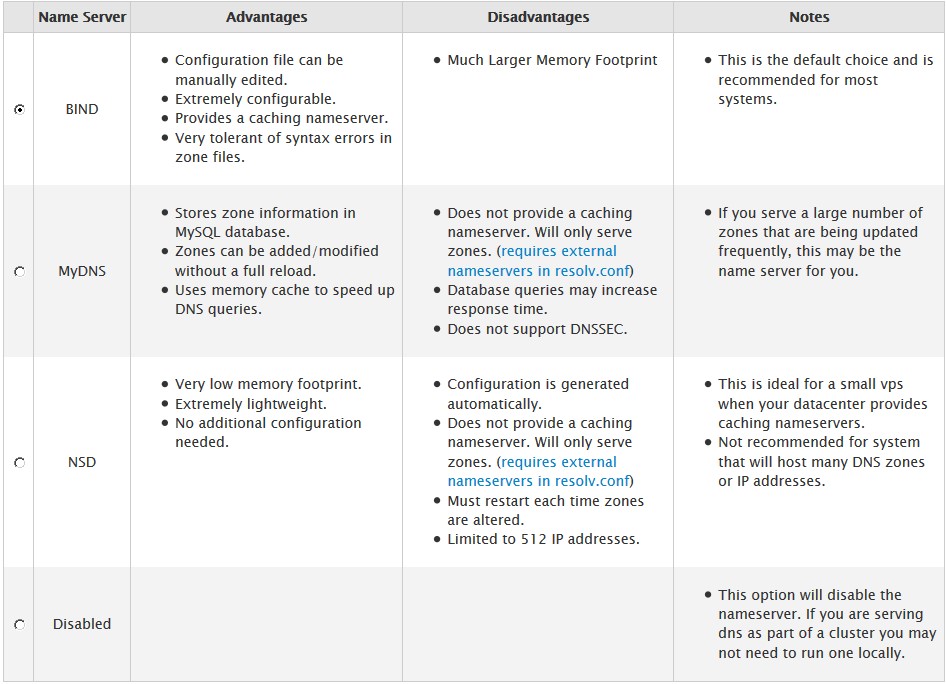 You can choose from BIND, MyDNS or NSD; the advantages and disadvantages for each are displayed. If you are unfamiliar with any of them, select BIND, which will be the easiest to work with.
The next setting is Nameserver Records.
To use your own nameserver, you will need to create those entries at your registrar first. The Process for adding those can vary based on which registrar you are using, so if you are unsure as to how to go about getting these entries set up, you should contact your registrar's support and ask them how to do so. You will also need to add A records for your nameserver on WHM. To do that you need to login to your WHM as root, then navigate to the DNS functions section and click on Edit DNS Zone. Simply click the domain you used when you set up your nameserver at your registrar and click the Edit button to get to the DNS Editor screen. On the DNS Editor screen, you will want to add A records for your name servers. To do this you will need to fill in the spaces at the bottom of the screen. Just make sure to use the right hosting IP.